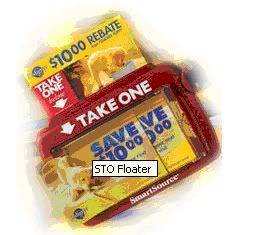 I picked up an extra day at work today and decided to spend my time wisely and hit up 3 grocery stores for S.S. coupons. Here is a list of the ones I snagged.
$1 off Tide In Wash Booster
$0.50 off Halls refresh (peelie at Foodland)
BOGO free Dentyne gum
$0.55 off Smart Balance Cooking Oil
$0.55 off Star Vinegar
$1 off Oscar Mayer Deli Fresh Chicken Strips
$1/2 Pillsbury Pie Crusts
$0.55 off Nestle Toll House Cookie Dough
$0.75/3 Pillsbury Ref. Baked Goods
$0.65/2 Egg Beaters (Kroger)
$0.35 off Egg Beaters (Foodland)
$0.55 off Dannon Multipack or 5 cups Yogurt
$1/2 Coffee Mate Creamers
$0.55 off Activia Drinks (4pk.)
$3/2 J&J First Aid Products
$0.55/2 RoTel Diced Tomatoes
$1/4 Hunts Tomatoes
$1/2 Kelloggs Cereals (Kroger)
$1 off Kelloggs Cereal (Foodland)
$1/2 Starkist Tuna Salad
$0.75 Truvia Natural Sweetener
$1/3 Birds Eye Steamfresh
$1/2 Red Baron Fire Baked Pizzas
$1 off Fresh Express Salad Blends or Kits (anyone notice they no longer sell this brand at Kroger? that is where I see the reduced ones for less than $1) (Foodland peelies)
$0.55 off Fresh Express Spinach
$1 off any Maybelline Eye Product
$1/4 Martha White Baking Mixes
$1 off Crisco Olive Oil
$1 off Pedigree Good Bites
Buy2 Get 1 Free Pedigree Canned Dog Food
$1/2 Temptations Treats for Cats
$1 off Whiskas Dry Food any size or Wet 10 pk.