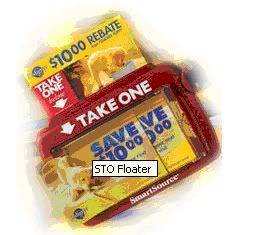 I talked about Smartsource Machine coupons in a previous post
here.
They are a wonderful way to get free coupons that can be used anywhere because they are manufacturers coupons. For our area, I see these mostly at Kroger. I have seen them other places but only one machine with one coupon. Kroger usually has several machines at various places around the store for various products.
Anyways, I did a short drive thru at Kroger on 1st street in Huntington today, as I had 30 minutes to kill. I bought 10 Healthy Choice French bread pizzas ($1 each WYB 10) and 2 (4pk. @ $0.99 each) of Cottonelle T.P. for $9. Nice! I had a Get 1 Healthy Choice Entree Free WYB 5 coupon from All You Magazine and used (2) $0.50 Cottonelle
printables.
Here are the Smartsource Machine Coupons I snagged from 1st street today.
$0.55 off 2 Healthy Choice Soups (can or microwaveable) Exp. 4/30/09
$1 off any Softsoap Body Wash Exp. 2/28/09
$1.50 off Clorox 2 Stain Fighter Exp. 3/08/09
$0.55 off any 2 packages Martha White muffin mix Exp. 4/30/09
$1 off any Bertolli Premium pasta Sauce pouch Exp 4/30/09
$0.75 off any Healthy Choice Fresh Mixers product Exp. 3/31/09
$0.55 off any 2 Del Monte 50% less salt vegetables
Ortega rebate for free cookbook w/ 1 UPC & $2 s&h
I love snagging these coupons when I am walking through Kroger. Sometimes when I just have a few minutes to kill while at work, I will just walk through Kroger, not buy a thing and snag coupons. You can use these coupons anywhere. I use them most often at CVS, Walmart and Kmart.